Euro Bungee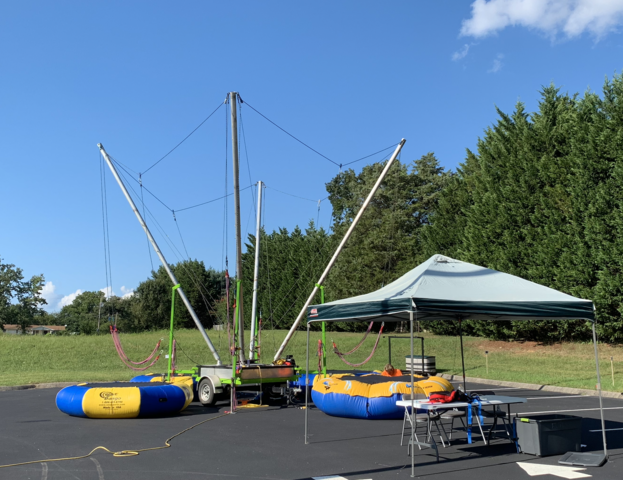 $2,200.00
Please call to reserve this item

Setup Area: 40' x 40'
Actual Size: 30' x 30'
Monitors: 6
Circuits: 3
Age Group: All Ages
Euro Bungee Trampoline Rental
What is a Euro bungee rental? Well, it is a contraption that offerfour participants to jump on a trampoline and do flips with bungee cords strapped to you on both sides. This makes this trampoline slightly safer and allows the participants to have their very own trampoline. Because of this you can bounce high into the air and do flips with ease. It is super fun for those that like doing flips but it is also great for a good dose of exercise as well! Shelf Service Bouncers is happy to offer the Chattanooga area the latest in Euro Bungee trampolines. It has 4 stations and you can do front flips, backflips, jump as high as you can! This Party Rental item is perfect for any guest that craves the excitement of Bungee Jumping, combined with doing backflips on a trampoline! This Interactive Attraction is perfect for School Events, Company Picnics, Corporate Events, After Proms and Graduations. This bungee will get your adrenaline pumping. Participants of all ages love to try this attraction.
Safety is important Euro Bungee Rentals :
We will arrive with our Euro bungee rental ready to set up. We will set it up to the specifications that are needed to allow it to be a safe ride for everyone. Once the Euro bungee rental is set up, our operator will control everything. There are harnesses that have to be put on and taken up. Typically this is all done by a timer and the jumpers have so many minutes to enjoy their time on their personal flipping machine, the Euro bungee rental. This is one of the few attractions or rentals that we offer to our clients that will come with an attendant. That is because of the complex harnesses and the increased possibility of self-harm if not strapped incorrectly. We here at Shelf Service Bouncers fully believe that safety is number 1. Everything we set up, we set up with safety in mind and our Euro Bungee rental jumper is no different. We have set up all of our equipment over and over again for years. This allows us to perfect our setups and get everything up and going quicker than before. This Euro bungee rental is no exception as we have to inflate all of the four trampolines and get the harnesses and bungee cords in place.
Unique rentals such as the Euro Bungee rental Here
Looking for something different for your party or event? Many companies offer a simple bounce house rental or even maybe a water slide or two. But, things such as a mechanical bull rental, euro bouncer rental, and rock climbing walls are certainly some extreme rentals that are unique to Shelf Service Bouncers. We believe in having unique, clean and inspect equipment and only offer the very best to our customers. We are determined to be on time for our deliveries and when the event is over, we will tear it all down. The euro bungee rental is no exception. Once your event is done, we will begin the teardown process and be out of your way in no time.
Other Party Rentals Suggestions :