Mechanical Bull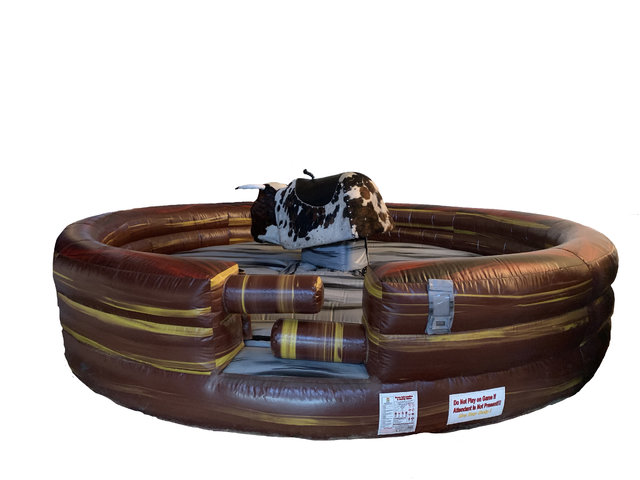 $1,400.00
Please call to reserve this item

Setup Area: 15' x 15'
Actual Size: 10' x 10'
Monitors: 1
Circuits: 2
Age Group: All Ages
Billy the Mechanical Bull Rental Chattanooga! Our Mechanical Bull Rental is awesome for corporate events, school events, graduation parties, or even your backyard parties! Your Mechanical Bull rental comes with a fully trained operator that ensures not only your safety but also your entertainment! There are six different levels of play available from the young buckaroo all the way up to Lone Ranger!
Requirements for the Mechanical Bull Rental:
1. 2 – separate 20amp Circuits of Power.
2. Level Access from vehicle to set up location with no stairs and minimal hills/slopes
3. 36-inch wide minimum access route including all doorways.
4. Level set up an area at least 20ftx20ft square.
5. Overhead clearance, ceiling minimum of 15ft when indoors.
6. All riders must sign a waiver to participate. Riders under 18yrs will need a parent signature.
Mechanical Bull Rentals Chattanooga
Want to inject some excitement into your event? Having a mechanical bull will do just that. We are a fully insured party rental business that offers the typical party rentals such as
water slide rentals
and
bounce house rentals
but we also offer some unique rentals to choose from such as our mechanical bull rental. When you are about to throw an event of a lifetime you want to go big, you want there very best that are going to wow your guests. You want a mechanical bull rental, a rock wall rental, and a euro bungee rental. Well, you are in luck, as we have all three. Yes, that's right we have all of the extreme and unique party rental options.
Marvel at the talent of your co-workers and friends as you attempt the mechanical bull rental and take on the challenge of holding on. Our mechanical bull rental comes with an inflatable arena that will buffer the fall as well as one of our attendants to control it. No worries, we love a good rider and will be up for challenging them. But, for the younger kids, we can keep the bull to a level that they can handle as well. This is a ride that everyone enjoys but use your common sense..


Restrictions for riding a mechanical bull rental
You should not ride our mechanical bull rental if you have any back or joint problems. It is not wise to ride if you are prone to headaches as well. If you are currently injured for whatever reason, you should stay off the mechanical bull rental. Of course, you cannot ride it pregnant or if you have heart issues. Our mechanical bull rental is for those that are heart-healthy and have a sturdy back. Get ready for the ride of a lifetime. And, be sure to have a friend record it so you can relive it over and over again. Let us bring something unique and fun to your next party with our mechanical bull rental. "Billy" is ready, but the real question are you? Challenge riders to stay on as he bucks back and forth like a real bull. This will not only be fun for those that ride "Billy", but it is also fun for those that watch! It is a great rental that will surely bring a crowd.
Other Party Rentals Suggestions